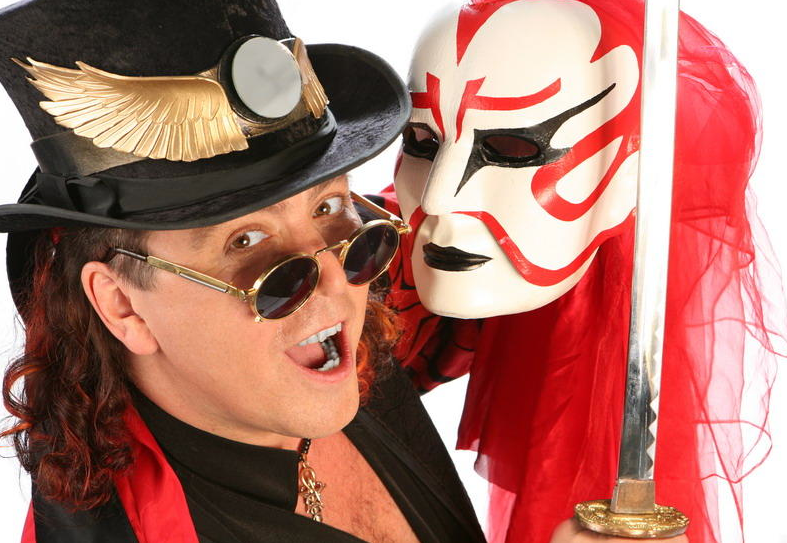 Jeff McBride: Magic at the Edge at Sound Trax Showroom at Palace Station
I have seen this show a couple of times and each time was fantastic. The first time I went Jeff was wondering around the audience and saw me sitting alone and came up to say Hello. He asked if I would like to sit with a group of his friends and students and proceeded to introduce me to everyone. Jeff entertained and amused us with many different routines from his collection of disciplines from his travels around the world of course including Kabuki Theater and sleight of hand.
One of the things that was most interesting was how he seemed to engage everyone in the audience. Not just that look at a certain section of the crowd act but actually looking particular people directly in the eye.
Another thing was his flawless performance. He told us that with constant practice anyone can be great at anything they work at. I heard a well known magician say after the show, "I know how he does the water bowls but he does it so well I love to watch it."
He also has a way of interacting with his audience helpers that makes them feel comfortable and confident. I know because I got to help him twice. Ok so hitting the metal bucket with the magic wand to show the bucket is solid or holding a ring high in the air so he could link it with me is not a big deal but he could instruct and praise with a simple glance, nod and smile. Same with the child he brought on stage. Patients and positive suggestion goes along way and makes a star out of a possible future master magician.
And Jeff's dedication to the art and his people skills are what inspires me to attend his magic classes and practice my own skills magic or otherwise. Maybe one day he will invite me to perform at Wonderground his magic nightclub after the show on Friday and Saturday nights. It is amazing the group of magicians I saw there and the ones I have heard have been there. There is techno dance music; magicians performing close up, magicians performing on stage, go-go dancers, comedians, balloon artists, and a host of other entertainers. Jeff wonders the club acting as host and MC all the while interacting with those enjoying the evening. At a mere $10 or free with a ticket stub from that night's show, Wonderground is definitely one of the best deals in Las Vegas.