Reading? Overrated! Download the review for later or listen to it below! If you have a product you want to talk about, tell us about it. Here's how.


Heartbreaker - Reviewed by Derek Merdinyan [1:50m]:
Play Now
|
Play in Popup
|
Download
—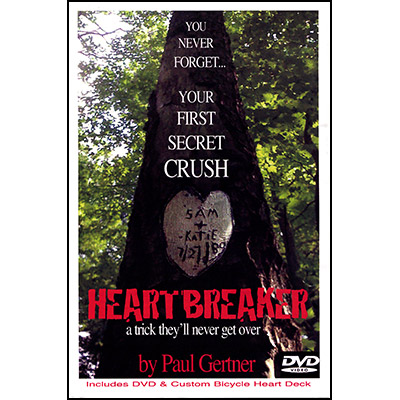 I'm a Paul Gertner fan. I like his thinking and I enjoy watching his magic and his 'Heartbreaker' effect didn't disappoint.
Included in the packaging, you receive both text and video instructions along with a nice quantity of specially printed 'Heartbreaker' cards to get you practicing the effect right away. You will, however, need to pick up some refills from Paul every few dozen performances (he includes a special number you can call for refills which you can get a discount on).
Heart Breaker creates an emotional connection between the performer and the participant. Paul's honed the presentation to the point where you can see the moment when you 'magically heal a broken heart from long ago.' The effect comes together in a sequence of beautiful and emotionally charged magical moments. Visually, you pluck a set of initials off of a card and they appear on the card held by the spectator (which they can keep!)
The effect is relatively simple to perform and has many years of real-world performances behind it. It's got the potential to become your next 'workhorse' effect.
If you are a magic dealer and are interested in carrying this product, you can contact Murphy's Magic Supplies at 916 853 9292 or visit them on the web at www.murphysmagicsupplies.com.