Magic Reviews by Cameron Ramsay
Above the Fold
Rich Aviles
Vanishing Inc Plublishing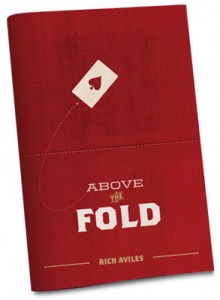 Manufacturer's  Description
Published by Vanishing Inc. Magic, Above the Fold is the debut collection from one of magic's most exciting new talents: Rich Aviles. In this intelligent, praiseworthy collection of card and close-up material, Aviles details thirteen effects and seven moves, each one explained with equal parts clarity and wit.
Cameron's Description?
Yes,Yes,Yes, people are still writing books. Andy Gladwin and Joshua Jay are bringing sexy (books) back and I am certainly loving it. This debut collection from Rich Aviles has a lot of great material in it. Highlights for me were Pocket Protector-a clever prediction using an Alex Elmsly move. Asher Twich- Rich's take on the now classic ace routine by Lee Asher. Now I'm not a guy that thinks any one should be boring their audience with 37 different color changes but I really like 2 Legit as a double color change.
Cameron's Favorite Part
Again this is a book, what's even better is that it is a book I can take on the subway (I don't' go on subways ever since Spiderman) and easily travel with anywhere with it. It's not big and that's what the guys at Vanishing Inc Magic are trying for. They are calling it their "Small But Potent", just the best material from that one creator.
Now I didn't want to write about this but there is a secret gem in the book that I am sure a lot of card guys won't use. It's the only non card trick/gag in the book. I have been able to put this gem in my comedy club set. To sum it up this is a great card book from a really funny guy that everyone will enjoy.
I really look forward to more books and products coming out of the Vanishing Inc Publishing company.
Cameron 
MrCameronRamsay@Gmail.com
@Cameron401 on twitter