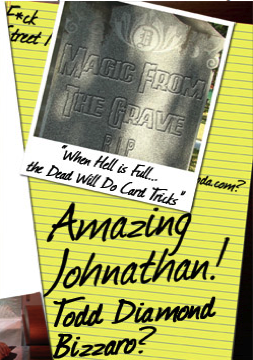 It's not often you get a magic DVD that is both entertaining as well as informative. "Magic From The Grave" is just that. The DVD's premise is the documentary of how Todd Diamond's last DVD, "F*ck Street Magic" killed him. Yes, the video itself, killed him. And, like any good soap opera… his corpse is back to give you his final thoughts! I really did enjoy getting into the storyline. There is a whole mystery that unfolds as you watch the video. Well, in two parts. The "backstory" is on a separate menu of the DVD, but it's not hard to find. In fact, the entire DVD is very easy to navigate. Anywho, back to the point: the premise, setup, and execution of the storyline are spot on entertaining. There are four effects taught, as well. Three by dead hands, one by Bizzaro. The first of Todd's, "Coins from the Grave," actually totally surprised me. What seemed like a modified click-pass became something so… SO much cooler. This alone is worth the cost of the DVD. Next, the "Spellbound For the Dead." Also, a great fooler. It's not what you think, especially when you see it. It has a surprise ending, and it's actually very easy to do. Just another brilliant idea that died with Todd Diamond, but somehow still explained by his silent corpse….
Next is the "Tombstone Change." I had to watch it again to really understand what happened… so, make sure you pay attention here. There is no dialogue here, so you have to be creative and then watch the explanation to find out what's going on. Still, a very cool and creative set of moves with a deck of cards, but one you really have to think about at first. Eh, no sweat, the rest of the DVD makes up for it.
Last in effects is Bizzaro's "BAMF!" trick. I'm not sure where he came up with this, but it's certainly cool. The DVD says it's just a "card teleportation effect," but that is SO underplayed. No funny counts or awkward moves, you really cause one card to cleanly jump from one packet to another. Best of all, like the rest of the stuff on the DVD, it's easy and well explained. …and shot on a casket…
Included on the DVD is the one thing that most people will probably get this for: An interview with The Amazing Jonathan. To be honest, it's worth every penny. Todd Diamond picks his brain about his theory and practice of subjects not often discussed in magic. Very enlightening, and entertaining. One note… not an interview for kids. But, that's alright. The footage is priceless and ageless.
All in all, I really like it. I felt like I got my money's worth. A couple of great coin tricks, an "alright" card trick and a great card trick (they balance out), and a worthwhile interview. It's well produced, looking very "documentary-esque." So, for $25, I'd totally recommend this to anyone with an interest in coin or card magic, or anyone who would like an example of what a real DVD should consist of.
P.s. Yes, there are outtakes.
Aaron Stone is a little-known full-time performer in the Dallas / Ft. Worth area, who spends hours performing for real people every day. He's a former newspaper editor and voice actor, as well. www.aaronthemagician.com
If you're interested in picking up this product, you can head on over to MagicFromTheGrave.com