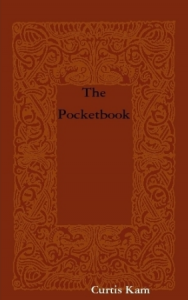 "The Pocketbook" is a book written by the one and only, Curtis Kam the magnificent amazing incredibly talented awesome coin magician. Yea, all those things. In an attempt to write the future leading book on coin magic, Curtis has not only succeeded in a landslide compared to other books on coin conjuring, but he has also set the expectation level much higher for anybody performing with coins as well as increased entertainment value for all of those people's audiences by reading this book.
The quality of this book is just unbelievably. If you wanted a good book to keep you busy for a few hours, this is the one to get. Although it is only 83 pages long, this is the pocket sized reference book for anybody even remotely interested in money. Thats right. Money. If you have ever done a coin trick and do not own this book, you are missing out on one fine piece of work here. It is perfectly bound in a nice "Hip pocket mullica wallet" sized book than is destined to travel anywhere with everybody. Consider it (I'm sorry baby, I didn't mean to refer to you as "it") a security blanket for magicians. Just imagine that sense of security when in a bar or restaurant situation where you have a few coins on you and you forgot your favorite technique to opening a flipper, or the proper handwashing techniques and ideas. Pshaw, just flip open the book and your set!
Even if you are just starting off in coin magic (or magic, for that matter) this book will help you on a large scale. It is not only the future bible of coin magic, but also an incredible reference book/guide as well as notebook and handbook for coin magicians. If you are just starting, I highly recommend buying this and J.B Bobo's "Modern Coin Magic" at the same time. If you sat down and read this book at the same time (Good luck at THAT!), you can get much more bang for your buck.
Whether you are a beginner in coin magic, a well seasoned coin mechanic, or even just to support the author, this book will come as a simple pleasure. I am astonished that Curtis would just give this up that easily on a silver platter to the magic community. C'mon man, make us beg for it! I feel much more secure now after reading this book with my magic. I have only been with coins for a good 6 months or so and I feel like I have learned 6 months of good material in 3 days of reading. I look forward to many years of constant referring until the last stitch of binding holding this book together finally breaks and it falls apart and then, oh boy! I get to buy another one to use for many more years.
I can say with every ounce of dignity and manhood in my body, I think I felt a tear drip down my face when I read the last words of this book. On the other side, many of the coin magi who don't buy this book will feel the slow, painful burn of a heckler in a crowd of 40 on the street during their "perfect" hanging coins routine. No routine is perfect until this book is read and understood for there is no greater pleasure in life than to have all this great material presented in such a direct, simple to read book for only $24.95 at lulu.com. Most of the best information is the most expensive but it pays in the end. Just look at Nathan Kranzo's "The Gig". This book is here for us at our disposal for reference and advice. Just imagine sitting on Curtis' lap and listening to him telling you everything there is to know about coin magic. Yea, thats what is in this book. That whole experience.
So there is absolutely nothing left to say other than a big warm thank you to Curtis. The perfect book. The perfect experience. Thank you.
-Mark Tirone