Reading? Overrated! Download the review for later or listen to it below! If you have a product you want to talk about, tell us about it. Here's how.


Night and Day - Reviewed by Derek Merdinyan [2:15m]:
Play Now
|
Play in Popup
|
Download
—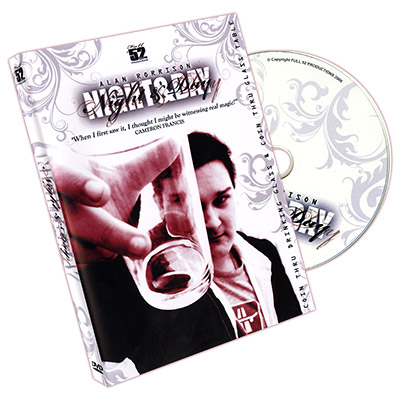 You know that feeling when you're on an roller coaster and you reach the top. You look over the edge, you hold your breath and clench your chest. That's the feeling I got when I saw Alan Rorrison's 'Dark as Night' effect on the 'Night and Day' DVD. Rorrison created a beautiful, surreal magical moment. Very cleanly, I saw Rorrison balance a coin on his finger tip and slowly rub it against the bottom of a clear drink glass. A moment later, he moved his hand away and tilted the glass back and forth – the coin slid around as if it were swimming through the solid base of the glass. That was the moment of anticipation, when he moved his finger out from under the coin and I could see it apparently rising up through the glass; the release, the moment of going over the crest of the roller coaster came when he shook the glass and the coin was bouncing around inside, trapped within by his other hand covering the mouth of the glass.
'Clear as Day' is almost equally as stunning. If you've seen Mariano Goni's Melting Point, you have a good idea of what this coin through glass table top looks like. I prefer Goni's effect, but 'Clear as Day' uses less gimmicks.
Both effects have very workable angle constrictions. 'Dark as Night' is a little more prone to bad angles, but you are taught several ways to minimize them. Overall, the two effects (and accompanying bonus effects) are taught in great detail and will have you well on your way to some productive practice secessions.

Whether you're looking for a practical and visually stunning 'through glass' effect for your performing repertoire or when you're out on a social engagement, I'm going to recommend you check out Night and Day.
If you are a magic dealer and are interested in carrying this product, you can contact Murphy's Magic Supplies at 916 853 9292 or visit them on the web at www.murphysmagicsupplies.com.