Reading? Overrated! Download the review for later or listen to it below! If you have a product you want to talk about, tell us about it. Here's how.


Got A Light Reviewed - by Derek Merdinyan [2:12m]:
Play Now
|
Play in Popup
|
Download
—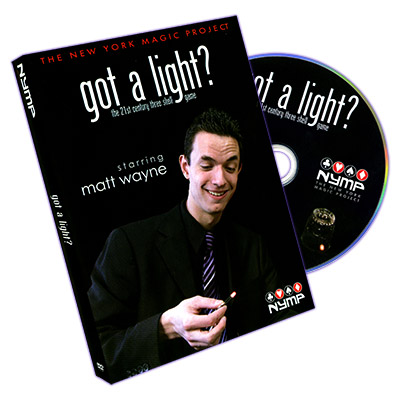 Matt Wayne's 'Got a Light' is the easiest and most customizable three-shell-type routine I've ever seen. No moves, no slights, no bull.
Included with the DVD are four LED lights and a magic wand, er… battery. Only three LEDs are required for the routines, you have the option to incorporate the fourth LED or save it as a spare in case you loose one.
Matt kicks off the DVD with several performance segments and then dives into the explanation of his routine. Following the basic explanation, you are shown several extra tips, ideas, and concepts for the included LEDs and batteries.
Matt uses three shot glasses in his routine to represent the 'shells' in the theme of his routine. On one hand, they give the effect a different feel, but carrying around three shot glasses in your jacket pocket may not be practical for everyone – using them is just an option.
Trust me, this effect is drop dead easy to perform (so nail your presentation!), totally angle proof, and allows for remarkable levels of flexibility to create a truly unique routine; just be careful transporting the little LEDs!
If you are a magic dealer and are interested in carrying this product, you can contact Murphy's Magic Supplies at 916 853 9292 or visit them on the web at www.murphysmagicsupplies.com.