Reading? Overrated! Download the review for later or listen to it below! If you have a product you want to talk about, tell us about it. Here's how.


World's Greatest Magic: Close Up Magic (No Card Tricks!) - Reviewed by Derek Merdinyan [3:05m]:
Play Now
|
Play in Popup
|
Download
—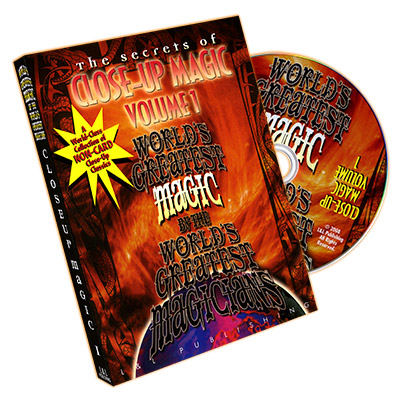 Someone at L&L Publishing must have read my mind. Seriously. This particular 3-disk set in the WGM series is all about non-card close up magic. Why would I be so excited about something like this? I love variety and don't like books and DVDs that call themselves close up magic resources when in fact they should really be called card magic products: 19 card tricks and a coin trick isn't the same as a book that teaches you 2-3 card tricks, a few coin tricks, effects with dollar bills, sugar cubes, dead mice, mayonnaise, etc… The latter is what this set presents the viewer: variety (minus the dead mice and mayonnaise).
I found it quite enjoyable watching this mashup of professional magicians, both modern and from the days of old performing some of their best close up effects; the tricks that were different. Of course, each is fairly adept at teaching their respective effects from their own professional repertoires.
Here's the reason I love the variety: you're bound to learn something or about something you never knew before (Example: I had never seen what a ball and tube gimmick looked like before I saw this DVD and also learned there is so much more you could do with those two objects than just put the ball through the tube).
Bottom Line:
If value, professional magic from magicians with 'worker' reputations, and (my favorite) variety, are things you look for in a learning resource, then this set may be for you.
If you are a magic dealer and are interested in carrying this product, you can contact Murphy's Magic Supplies at 916 853 9292 or visit them on the web at www.murphysmagicsupplies.com.