Reading? Overrated! Download the review for later or listen to it below! If you have a product you want to talk about, tell us about it. Here's how.


Twister Continuum - Reviewed by Derek Merdinyan [3:32m]:
Play Now
|
Play in Popup
|
Download
—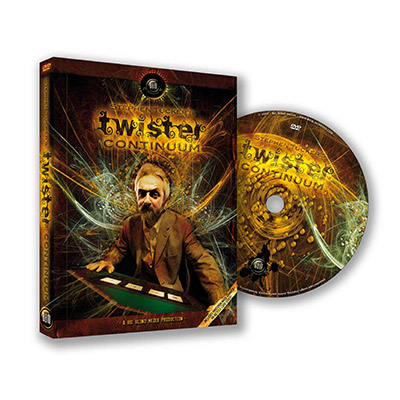 Never before has the card twisting plot seemed so versatile and customizable. Stephen Tucker's Twister Continuum gimmick makes the twisting effects on the DVD the easiest I've ever seen (no slights and no counts); however, I don't think the actual twisting phase of the routines are the best I've seen. Perhaps it's the critical magicians eye that doesn't view the effect the same way as a layman would so let's cover exactly what the Twister Continuum has going for and against it:
Pros:
It's easy. Super, super easy. No slights, no counts. Ok there's one little thing, but it's so easy I can't even call it a slight.
The best thing this gimmick has going for it is all the creativity it gives the magician to create entirely new effects. The most basic effect, twisting four cards over, having them transpose to your pocket and revealing a new set of cards in your hands is only the beginning; the same ideas can be used to create almost entirely different effects – it really what makes me really appreciate this gimmick.
Thankfully, you are taught how to make additional gimmicks if the included one you received breaks, gets worn out, or you wish to perform some of the other effects spun off of the principles of the classic TC gimmick. Making the new gimmick is easy and you'll already have everything you need to construct the gimmick at home.
Cons:
Saying that the twisting sequence doesn't "look convincing" is too strong of a statement. I think the twisting sequence just looks too easy; almost qualifies under the 'too perfect' principle.
If you're still undecided, I'd check out the video – that way you can judge for yourself if you like the way the effect looks:
Bottom Line
Twister Continuum legitimately opens a whole new world of creative applications to the old 'Twisting the Aces' that wouldn't be possible without the included gimmick and all the thinking Mr. Tucker put into his special gimmick.
P.S. I also gotta throw out a lot of love for the linking card effect on the DVD. It's the easiest, gimmick-free, multiphase, impromptu linking card routine I've ever seen. It really kicks @$$!
If you are a magic dealer and are interested in carrying this product, you can contact Murphy's Magic Supplies at 916 853 9292 or visit them on the web at www.murphysmagicsupplies.com.