Reading? Overrated! Download the review for later or listen to it below! If you have a product you want to talk about, tell us about it. Here's how.


Tome - Reviewed by Derek Merdinyan [3:22m]:
Play Now
|
Play in Popup
|
Download
—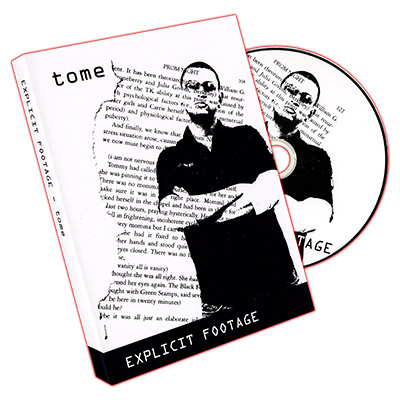 I think this is the best way to describe Sean Fields' 'Tome': haunted deck effect with a book. The participant selects a page from the book – the book is placed on the ground – and the selected page visually rips itself out of the book.
Naturally you must be wondering what the real world applications of this effect are (right?). Let me take a moment to re-illustrate the visual phase of the effect to give you a better idea:
After the page is selected, the ring of spectators watches as the magician places the book on the ground and waves his hands close to the book but seemingly remains free of any connections between himself and the book. And then the page rips itself out.
The important thing to note is that the natural performing arena for this effect is within a ring of audience members. While the ring of people isn't essential, it creates a natural cover to mask the workings of the effect – even in some of the harshest conditions. This isn't to say you couldn't perform the effect in a close up theater environment if you have more control over your performing environment or even on stage if you had the assistance of a camera and projector.
So now that you know you don't have to perform this effect in a ring of people, remember that if people see you creating crowds at a walk around gig and then see everyone explode outwards as they watch the page tearing out, you're only going to make your crowd bigger.
Now for the big one: setup. While there really isn't much of a skill to preparing the books for the effect, once you know what you're doing, you can set one up in 6-10 seconds and leave it on a shelf until you're ready to perform – even if it's 10 years later (theoretically, of course). Tome can be performed with nearly any paperback book. Unfortunately the effect ruins the book (remember, the page that tears out…) On the plus side, if you wrote the book, it'll make a great give away.
Bottom Line:
Bar none, 'Tome' is my new favorite effect using a book; the idea of adding a visual element to the jaded book test effect breathes new life into this classic of magic.
If you are a magic dealer and are interested in carrying this product, you can contact Murphy's Magic Supplies at 916 853 9292 or visit them on the web at www.murphysmagicsupplies.com.