Reading? Overrated! Download the review for later or listen to it below! If you have a product you want to talk about, tell us about it. Here's how.


Magic At The Edge - Reviewed by Derek Merdinyan [2:46m]:
Play Now
|
Play in Popup
|
Download
—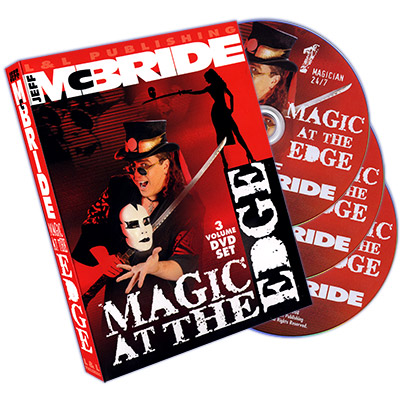 Easily my favorite 3-disk DVD set I've seen this year, Jeff McBride's "Magic At The Edge" is packed with killer effects using minimal props interwoven with priceless magical lessons.
Disk one kicks off with McBride's Magician 24/7 lecture which I had the pleasure of attending many years back. The lecture was fantastic and the DVD manages to improve upon that by adding even more effects you could/should be ready to perform 24/7. One of the new additions, "Tribal Piercing" quickly became my new favorite body trick; and with experience, may even become one of my favorite impromptu effects.
Anyone who has had the privilege of learning from McBride knows what a phenomenal teacher he is, both when it comes to teaching individual tricks and more wide-reaching lessons on the art. I was impressed with how engaging these DVDs were; if McBride were any more of a Techno-Shaman, I have no doubt he would have pulled me right through the screen.
As the user-friendly McBride-mystic effects continue to play throughout the series, the viewer also gets an interesting look at the Burning Man Festival which is used as a backdrop when performing many of the effects for the unique people who visit the annual event. Seeing magic performed in the middle of the desert during a communal living experience gives the viewer more perspective on the magic and the thinking behind them: living with little and performing with what you can find.
Bottom Line:
From the ground up, this DVD set is jam-packed with the advantageous and infinite knowledge of a true Sage.
If you are a magic dealer and are interested in carrying this product, you can contact Murphy's Magic Supplies at 916 853 9292 or visit them on the web at www.murphysmagicsupplies.com.