Reading? Overrated! Download the review for later or listen to it below! If you have a product you want to talk about, tell us about it. Here's how.


Lottery Card - Reviewed by Derek Merdinyan [3:11m]:
Play Now
|
Play in Popup
|
Download
—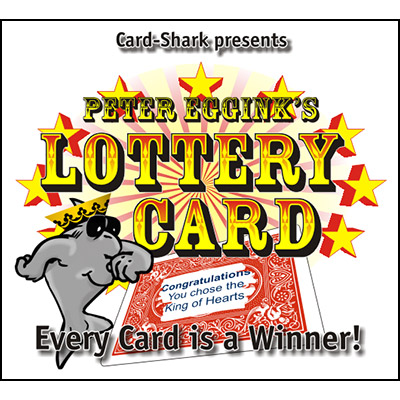 Peter Eggink's Lottery Card is a pretty quick trick; it's nearly a self contained and one level above an entertaining throw-away effect. That is to say, the effect is just so quick and has very little deck involvement that the effect shares some of the characteristics of a throw-away effect: a very brief moment of magic. This is not a bad thing by any means, but the effect could only benefit with a little independent creative thinking.
Included with the instructions are two of the specially printed 'Lottery Cards', each having a different card revelation on it. The cards are specially available in either Red or Blue Bicycle backs upon request, depending on your dealer.
The instructions are brief and to the point. The basic effect is learned and leaves room for you to play around with these specially printed cards. That said, the routine that is taught in the instructions which ends in a visual restoration of the card does not leave you completely reset, nor does it cover how to clean up after the change. Doing so is very easy, but for magicians not familiar with basic moves to deal with this little situation will have to put the deck away and perform something else unless they can clean up the deck with slight of hand. An alternate ending is included which is even easier than the visual change finale and does leave the deck back in the order it started, ready to perform again if desired.
Bottom Line:
Despite a minor detail lacking from the instructions, Lottery Card is a fun little revelation to play with and has real-world potential.
If you are a magic dealer and are interested in carrying this product, you can contact Murphy's Magic Supplies at 916 853 9292 or visit them on the web at www.murphysmagicsupplies.com.