Reading? Overrated! Download the review for later or listen to it below! If you have a product you want to talk about, tell us about it. Here's how.


Liam Montier's UV (UltraViolet) - Reviewed by Derek Merdinyan [3:41m]:
Play Now
|
Play in Popup
|
Download
—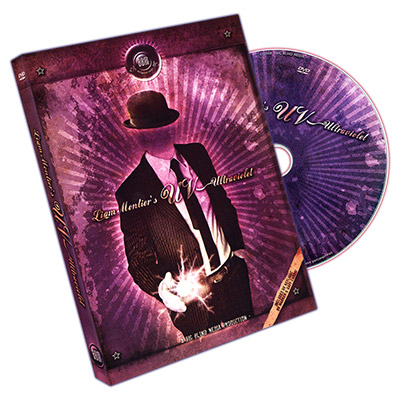 Liam Montier's UV DVD primarily features card effects with a little something extra added: ultra violet ink. In my book, this is a good thing because we get to see some interesting new uses for cards by adding in this new element. (Note: there are a few non-card effects on here as well).
As per usual, the DVD quality of this Big Blind Media product is slick and professional. Video, audio, and the flashy animated title sequences are a nice change from the production values of most indy magic producers.
Effect wise, you're definitely going to find something on here you'll want to incorporate into your repertoire. While it may be tempting to add a few of these effects into your typical set, just remember that people will begin looking for the Ultra Violet twist to each effect => which is where a lot of the power for these effects comes from.
"Invisible" was easily my favorite effect from the DVD. This double-prediction-like effect uses no forces and because of the sneaky way the deck is set up, you can continue to perform card effects with the same deck and not worry about messing up the order of the cards or the special one-time setup.
The DVD also comes with a pocket-sized UV pen, refill, several standard gaffs, and a keychain UV light to get you performing these effects and whatever else your mind may come up with.
Bottom Line:
If you're looking for something to spice up your jaded repertoire, playing around with effects that have a new element added to them, like Ultra Violet ink and lights, will surely spice things up.
If you are a magic dealer and are interested in carrying this product, you can contact Murphy's Magic Supplies at 916 853 9292 or visit them on the web at www.murphysmagicsupplies.com.