Reading? Overrated! Download the review for later or listen to it below! If you have a product you want to talk about, tell us about it. Here's how.


Hey Mr. DJ - Reviewed by Derek Merdinyan [2:55m]:
Play Now
|
Play in Popup
|
Download
—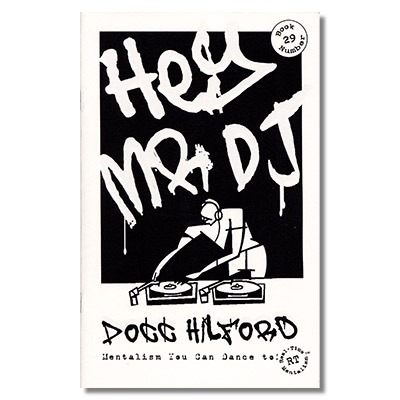 Docc Hilford's Hey Mr. DJ is the trick to perform when you want to get the party going. The routine is sequenced so that at the end, the rising climaxes pour out over the audience and get everyone up on their feet cheering and dancing to the music – which, conveniently enough, is the final revelation in the effect.
After doing the one time setup, you are ready to perform this effect with only a few seconds notice. The effect plays for groups of five to five thousand. It really has the potential to play big.
During the effect, several members of the audience yell out song titles. Two of them are selected in a very fair manner and both are revealed in different ways. As long as the songs aren't obscure, they can be chosen freely. If you're worried your DJ may not have the songs your audience is likely to select or you find you don't have a DJ with you all the time, the booklet discusses a variation in the effect where a pre-made CD with a dozen or so tracks on it is used and members of the audience select from those songs; sacrificing showmanship for practicality.
Reading through the instructions, I had to pause a moment and reread one particular section which covers the first 'move' in the routine. I kept thinking to myself, "this is so $#(% stupid." The move is just so dumb-as-post easy that it took me a while before I could laugh in delight at its simplicity. What's more, this method is cancelled out moments later when the second song on the list is selected.
Now the downside: you need a DJ. Well, not really, but to build the effect up to the biggest it can be (aside from perhaps having a famous band in place of the DJ) you'll likely reserve this effect for larger events where a DJ is present. That said, it is completely possible to perform the effect on the go with a CD and boom-box or even a cellphone that can play music.

Bottom Line:
If I were playing a big event and needed a packs small plays big routine to really kick start a party, "Hey Mr. DJ" is probably the route I'd go.
If you are a magic dealer and are interested in carrying this product, you can contact Murphy's Magic Supplies at 916 853 9292 or visit them on the web at www.murphysmagicsupplies.com.