Reading? Overrated! Download the review for later or listen to it below! If you have a product you want to talk about, tell us about it. Here's how.


Grab That Pinhead - Reviewed by Derek Merdinyan [2:46m]:
Play Now
|
Play in Popup
|
Download
—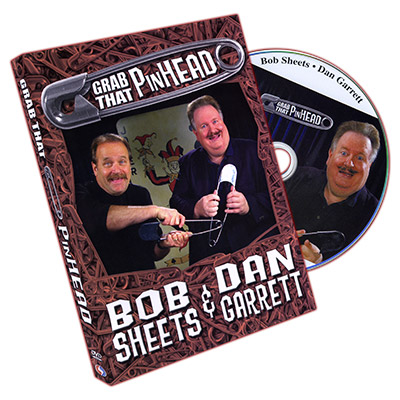 I was literally smiling when I finished watching this DVD. The two routines on this DVD are simple for audiences to follow, easy to perform, well taught, and are the epitome of workhorse routines.
Taught in a candid conversational style between famed magicians Bob Sheets and Dan Garrett, the linking pins are explained on a level that even the most novice of magicians could pick up; heck it's even borderline entertaining. Things kick off with a look at how to set up your pins which, I should mention, there are two large pins included with the DVD for you to start practicing with immediately and even use when performing for your paid audiences. From there, viewers get all the real world secrets that only true workers would know.
I feel I should say more to make this review longer, but it's really all straightforward from what I've already said. (Update: I thought of something else: the DVD is only $25 which is a very fair price in my opinion).
Bottom Line:
Whether you're looking to learn this routine or beef up your professional repertoire, this is most certainly a resource you're going to want to check out.
If you are a magic dealer and are interested in carrying this product, you can contact Murphy's Magic Supplies at 916 853 9292 or visit them on the web at www.murphysmagicsupplies.com.