Reading? Overrated! Download the review for later or listen to it below! If you have a product you want to talk about, tell us about it. Here's how.


Extreme Burn - Reviewed by Derek Merdinyan [3:00m]:
Play Now
|
Play in Popup
|
Download
—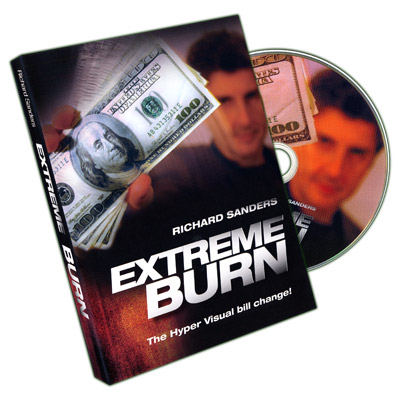 Is it possible to create a perfect magic trick? I'm going to say no; despite my deepest love for this effect. Overlooking the fact that I consider myself a visual-magic junkie, I can say this effect got me seeing things I didn't know were possible. I've been using Richard Sander's Slow Burn for several years now but after seeing this DVD I quickly upgraded to Extreme Burn.
What does this effect have going for it you ask? For the most part, $5 => $500 bill change effects have fairly decent handling; some are better and more natural, and others are lacking; the logic behind Extreme Burn's handling from the audience's perspective isn't too shabby. But that's not what made me fall in love with this effect; it was the visual nature of the change that did me in. It's easy, fun, astonishingly visual, and may one day give someone a heart attack.
Richard Sanders' instructions are nicely laid out and easy to follow. The only challenge I see with this effect (aside from performing it for yourself for hours on end) is choosing which of the half dozen or so changes to actually use. The most basic change will get the job done for most folks and is by far my favorite; but the others aren't without their charm and can work better in some environments over some of the other changes. There's even a change that looks like no moves are used; it's the most challenging one on the DVD, but it's a stunner when performed.
This DVD is so comprehensive, Richard Sanders also teaches his original Slow Burn effect for good measure.
Bottom Line:
This effect is fantastic, it's a real world worker, a visual stunner, and an effect that'll make the eyes of your audience stick. Easily going to make the top ten this year!
If you are a magic dealer and are interested in carrying this product, you can contact Murphy's Magic Supplies at 916 853 9292 or visit them on the web at www.murphysmagicsupplies.com.