Reading? Overrated! Download the review for later or listen to it below! If you have a product you want to talk about, tell us about it. Here's how.


Enlightenment - Reviewed by Derek Merdinyan [4:04m]:
Play Now
|
Play in Popup
|
Download
—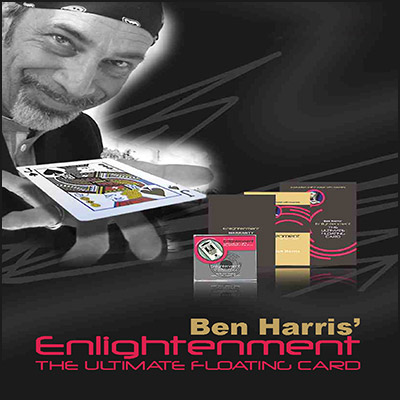 Ben Harris' Enlightenment is most certainly a paradigm shift in the art of levitation, but is it something magicians would use? Let's take a look:
Included in the fancy packaging is the instructional booklet, several informational inserts, and the Enlightenment Engine: a clever elevator-like device that is caused to expand (and lift objects on top of it) when in close proximity to a magnet.
Do yourself a favor and read the book before you start playing around with the Enlightenment Engine. Harris teaches his 'quick start' deck for those of you who want to start levitating cards immediately. If you can make it to the end of the book, Ben also teaches you his professional setup that makes the gimmick hidden in the deck even more deceptive; it takes a little longer to build, but it's definitely worth it.
A bill levitation is also taught, but for the most part, you're left to create your own effects with the engine until the next companion book of ideas comes out. You can also check out the Enlightenment Blog (www.wowbound.com/blog.html) for more ideas (including one from your's truly).
There are some definite advantages and disadvantages of using this levitation over other methods such as 'IT'.
Advantages:
Fully self contained
Cards can be freely selected
No lighting issues.
No threads to break!
The spectator can hold the deck while the card levitates off of it.
The card levitation effect is very clean and the spectator does most of the work.
Disadvantages:
Your spectator cannot look under the object that is levitating.
Levitations get a max height of just under one inch, depending upon how close you get the drive magnet (not included, and no a PK ring isn't strong enough).
Bottom Line:
This product package teaches a very clever, straightforward card levitation effect. If that's what sells you, then all signs point to GO! People expecting a cure all miracle gimmick should keep up the search (despite the fact that this gimmick has some new thinking behind it doesn't mean it has real magical power within it).
If you are a magic dealer and are interested in carrying this product, you can contact Murphy's Magic Supplies at 916 853 9292 or visit them on the web at www.murphysmagicsupplies.com.