Reading? Overrated! Download the review for later or listen to it below! If you have a product you want to talk about, tell us about it. Here's how.


Color Blind - Reviewed by Derek Merdinyan [3:01m]:
Play Now
|
Play in Popup
|
Download
—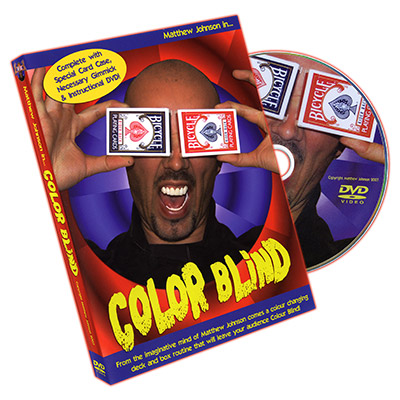 I've noticed the number of color changing deck routines on the market is always in constant supply. I think part of the reason for their success is that the premise of the routine is typically easy for audiences to follow, fairly easy to perform, and each has a special *gimmick* to it that makes it intriguing to magicians. Such is the case with Color Blind.
Matthew Johnson's Color Blind has a few other things going for it as well. At the end of the effect, the deck is completely reset; how does that sound for you workers! The color changing card case is very simple and a fun final moment of magic in the routine. Presentation wise, Matthew has this thing ironed out like a sail; while it may not be for everyone, it's a great leaping point for people looking to create their own successful presentation.
Of course, nothing's perfect, and Color Blind isn't without it's drawbacks. Angle wise, you could nearly perform this surrounded if it weren't for the color changing card case. Matthew teaches you ways to minimize your risk and confirms that you should at least be able to perform this in a typical walk around or restaurant performance arena without much fear. Also of note, while the cards themselves aren't gimmicked, they go back into the case at the end as you wrap up the effect to clean up the table. Performing the effect as is means you're probably not going to be performing other card effects with the deck, although if you really wanted to, you could.
Bottom Line:
Despite a few mild angle issues, this terrific opener is relatively easy to learn, packed with magic, and has a wide commercial appeal.
If you are a magic dealer and are interested in carrying this product, you can contact Murphy's Magic Supplies at 916 853 9292 or visit them on the web at www.murphysmagicsupplies.com.