Reading? Overrated! Download the review for later or listen to it below! If you have a product you want to talk about, tell us about it. Here's how.


Cell - Reviewed by Derek Merdinyan [3:33m]:
Play Now
|
Play in Popup
|
Download
—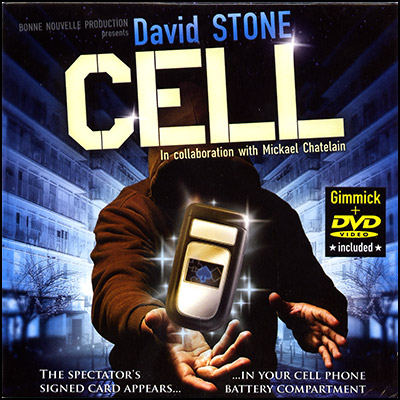 Forgive me if I come off as a little bitter in this review: I love this effect – but I just can't perform it with my phone. *insert aggression* David Stone's "Cell" is the Kennedy Box of the techno age.
The included gimmick is fun to play with and works great for performing this routine. Upon initial inspection, you may be disappointed with how the gimmick looks close up, but when used in performance, it flies right by. Unfortunately the gimmick won't work with my iPhone because there isn't an openable battery compartment – the only 'technical' requirement to see if you can use your cell phone with this effect is the ability to open the battery compartment with a finger or two. If you need two hands to open it, you may still be able to perform this effect, but the effect looks much cleaner when you can perform it with the one-handed open. I tested the gimmick with an old RAZR phone to great success.
Installing the gimmick in your phone takes less than a minute and requires no extra tools or supplies.
Aside from the Mercury Card Fold, the workings of this effect are very simple and even fun to perform.
Bottom Line:
If I could perform this effect with my phone, I would; I'd have this worker set up all the time, ready to astonish => just like you will.
If you are a magic dealer and are interested in carrying this product, you can contact Murphy's Magic Supplies at 916 853 9292 or visit them on the web at www.murphysmagicsupplies.com.