Reading? Overrated! Download the review for later or listen to it below! If you have a product you want to talk about, tell us about it. Here's how.


Past Midnight - Reviewed by Derek Merdinyan [2:14m]:
Play Now
|
Play in Popup
|
Download
—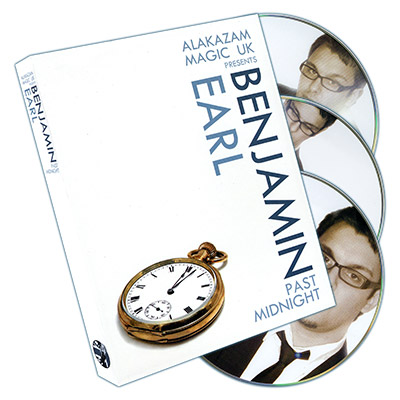 Fans of iTricks/Reviews know I'm not the biggest fan of Card Magic products (DVDs especially). For those not in the know, I'll always have a special place in my heart for card magic, but there are so many products out there that most new releases feel very unnecessary. However, with that in mind, I'm glad I had the opportunity to watch Benjamin Earl's Past Midnight.
While advanced, the experienced cardicians will most definitely dig into several of the clever effects on here. The material available on this set comes in such a wide range that it's difficult to quantify the use of the knowledge and qualify the magicians that'll get the most out of this.
A 'card-magic-only' magician friend of mine performed the effect Ramjollock for me a while before I saw the DVD and wouldn't give me any tips on methodology or even where I could go to learn it – he wanted to keep it for himself. When I happened upon the effect on this DVD set I did two things:
1). Sit with an evil grin on my face.*
2). Called up my friend to burst his bubble.
Bottom Line:
I wouldn't say it's the best DVD card set or a must have, but I can say that I enjoyed the wide range of content present and have already begun integrating a little of the material into my repertoire.
If you are a magic dealer and are interested in carrying this product, you can contact Murphy's Magic Supplies at 916 853 9292 or visit them on the web at www.murphysmagicsupplies.com.
*It's always the simple ones that are deceiving.