Reading? Overrated! Download the review for later or listen to it below! If you have a product you want to talk about, tell us about it. Here's how.


Duplicity - Reviewed by Derek Merdinyan [1:15m]:
Play Now
|
Play in Popup
|
Download
—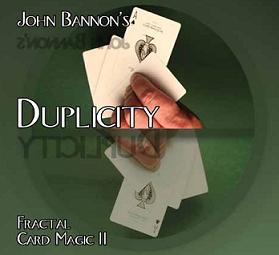 Following in the footsteps of Twisted Sisters, Duplicity is the next great packet trick from John Bannon. The effect has what the worker wants: it's simple, easy to perform, and easy for your audience to follow along. Unlike Twisted Sisters – of which this effect shares some of the same feel, the cards are completely examinable at the end of this routine. And finally, the thing I love most about this is that the climaxes build one on top of the other for a cascading finale: pow, Pow, POW!
The effect is taught by John Bannon himself on the included DVD which also features a freebie bonus effect. All in all, the instruction is straightforward and to the point.
Bottom Line:
I'm not that accepting of most packet tricks, but I would consider performing this one.
If you are interested in picking up this product for yourself, you can head on over to Fun Inc.