Reading? Overrated! Download the review for later or listen to it below! If you have a product you want to talk about, tell us about it. Here's how.


DBL STFT - Reviewed by Derek Merdinyan [2:54m]:
Play Now
|
Play in Popup
|
Download
—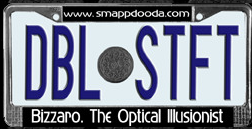 A few months back, a video of Bizzaro performing an effect with a refilling Oreo cookie spread through iTricks and beyond. Almost immediately I contacted Bizzaro with an interest to perform this effect; eventually I scored a unit to test and review.
DBL STFT (read: "Double Stuffed") is a surreal piece of visual magic. The effect is dead-as-a-doorknob simple to follow and produces a special moment of astonishment (even when performing it for yourself).
You receive both a gimmicked cookie and set of instructions which also explains methods for handing out a real Oreo cookie for consumption after the effect. Just be weary that you apparently already licked the cream off of the cookie…
My particular cookie was one of the first made in its limited quantity production. And even though the production process hadn't been perfected before mine was made, even at a distance of 3-4 feet, the cookie is nearly indistinguishable from a real Oreo – this is due in part to the fact that you are keeping the Oreo in motion throughout the piece.
Angles are fairly reasonable when performing this effect. DBL STFT was designed to look like an off the cuff, spur of the moment piece of magic where the magician notices a case of Oreos at a strolling event and decides to do something impossible. Because of this, the advantage is in your own hands to set up and frame your audience to view the effect out in front of you. Only one sequence of the effect is susceptible to bad angles from behind; this can be eliminated by controlling your audience as previously mentioned or performing the effect closer to your body.
Bottom Line:
If you like the effect, definitely check this out before Bizzaro runs out!
If you are interested in picking up this product, you can check out SmappDooda.com.