Reading? Overrated! Download the review for later or listen to it below! If you have a product you want to talk about, tell us about it. Here's how.


Assassin's Card Sword - Reviewed by Derek Merdinyan [4:08m]:
Play Now
|
Play in Popup
|
Download
—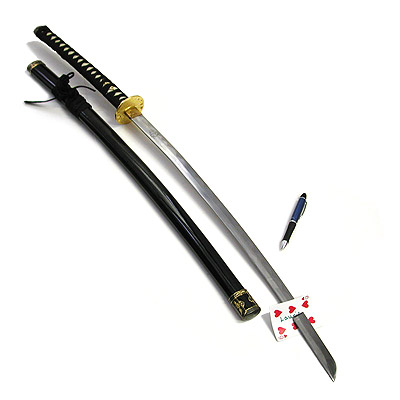 Docc Hilford's Assassin Card Sword presents you with a natural-looking gimmick that will allow the you to perform an organic feeling card sword routine. What does that mean exactly? With this gimmick in your pocket, you can perform a card sword routine at a moments notice so long as a knife or sword and a deck of cards is handy. Neither the deck or knife is gimmicked in any way; both of these items can be borrowed. In fact, the gimmick is in play only for one brief moment and is ditched without giving it any thought; it's taken out of play before anything ever 'happens'
Additional points for this effect that I liked: the card isn't forced or gimmicked so you can perform this effect under near-test conditions (however if you prepare a card before hand and force it, a gimmick isn't necessary). Unlike most card sword routines, the selected card in this effect can be signed (although not with a Sharpie-type pen). As far as angles are concerned, there's only one, maybe two moments where the dirty work is done and 'the move' is executed; these shouldn't be too much of an issue because you'll be swinging a sword in a moment; the only person that should be near you at the time is your volunteer who should be easy enough to keep at a safe distance. Because the blade isn't gimmicked, your volunteer can remove the card from the sword/knife and keep it.
Now that I've got the praise out of the way, there are a few other things I feel should be mentioned. First off, this effect is best performed with cheap-playing cards (i.e. non-Bicycle brand). In fact, the cheaper the cards, the better. While some of you may be Bicycle-purists, remember that these cards are going in the air and on the floor so a cheap deck that you can throw or give away at the end of a show isn't necessarily a bad thing.
Part of the reason this effect is so expensive is because of the replica sword that is included with it. That's great if you don't have one around the house if you want to star practicing right away, but the replica isn't of the best quality. After a few weeks of practicing this effect, the decorative elements of the sword sheath started coming off (of course, this is remedied with glue). For stage purposes, however, the included sword will more than get the job done.
Finally, it should be noted that the instructions don't cover how to repair or replace the gimmick should something happen to it. Using cheaper cards will definitely make the gimmick last longer, but not forever. Eventually something will need repair before you continue to perform the routine.
Bottom Line:
If you're looking for the cleanest, 'no gimmick card sword', this is probably your best, albeit expensive, solution.
If you are a magic dealer and are interested in carrying this product, you can contact Murphy's Magic Supplies at 916 853 9292 or visit them on the web at www.murphysmagicsupplies.com.