Reading? Overrated! Download the review for later or listen to it below! If you have a product you want to talk about, tell us about it. Here's how.


Enchanted Cube - Reviewed by Derek Merdinyan [2:28m]:
Play Now
|
Play in Popup
|
Download
—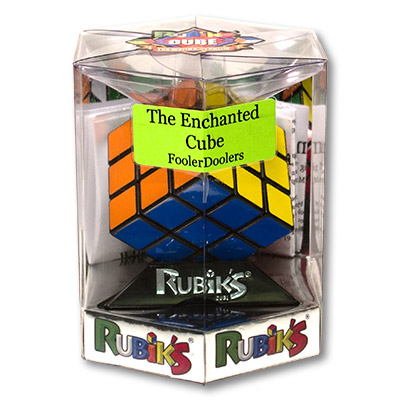 Ups:
- Magic can't get much more straight forward than this: what do you solve with a Rubik's Cube? You solve it. This is exactly what it would look like if you were to solve a Rubik's Cube by magic.
- You can end the effect in a way that allows you to reset the cube for your next performance AND allow the cube to be examined.
- Construction on this is great.
Things to be Aware of:
- The cube isn't examinable when solved, but you can hand the cube out for examination when you've finished performing the routine.
- If you screw up during practice or performance, or someone decides to mix the cube on their own, it's a real pain having to take the cube apart and then reordering everything as it should be; so practice slowly at first!
- Just a personal note, please don't proceed or follow this effect with a real Rubik's cube solve (i.e. a blindfolded presentation). I think it would kill this particular effect.
Bottom Line:
It's a quick effect and so simple to follow. Kids will be entertained and adults will be baffled.
If you are a magic dealer and are interested in carrying this product, you can contact Murphy's Magic Supplies at 916 853 9292 or visit them on the web at www.murphysmagicsupplies.com.