Reading? Overrated! Download the review for later or listen to it below! If you have a product you want to talk about, tell us about it. Here's how.


Sponge Eyeballs - Reviewed by Derek Merdinyan [1:27m]:
Play Now
|
Play in Popup
|
Download
—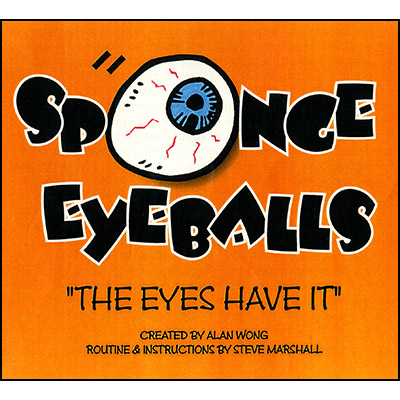 Ups:
This is a worker's sponge routine – so long as you can make the plethora of cornea [read "corny"] jokes work for you.
Comes with four painted sponge eyeballs that shouldn't be too difficult to touch up with a marking pen should any of the design fade.
Downs:
These aren't the softest eyeballs, er sponge-balls I've ever used, but they work just fine.
Bottom Line:
If you're looking for a sponge-ball routine that doesn't revolve around a set of (occasionally described) 'hokey-red-balls', this may be the routine for you (just be considerate with the excessive eye-related puns).
If you are a magic dealer and are interested in carrying this product, you can contact Murphy's Magic Supplies at 916 853 9292 or visit them on the web at www.murphysmagicsupplies.com.