Reading? Overrated! Download the review for later or listen to it below! If you have a product you want to talk about, tell us about it. Here's how.


Ambelitious Card - Reviewed by Derek Merdinyan [2:07m]:
Play Now
|
Play in Popup
|
Download
—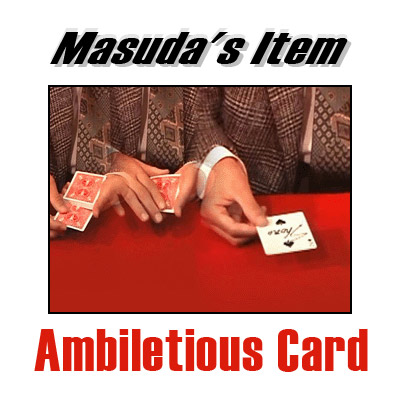 Ups:
This gimmick, when added to your deck can be used to end a large variety of selected card routines (including signed cards)
Fairly well made. Additional gimmicks could be made without too much effort should the provided one wear out.
Downs:
Moderate difficulty in making it look convincing, but the basic principle behind this effect has been in use for a long time and magicians are able to make this look good. With the addition of the gimmick, things become a little harder, but its nothing a bit of extra focused practice can't remedy.
The DVD doesn't teach you how to 'clean up' after the effect is performed, however it shouldn't be that hard to figure something out on your own, should you decide to give the signed card away.
The DVD instructions were very brief. I wanted more from them, but you can get by with what is presented.
Bottom Line:
I think if more instruction was given on the DVD, I would feel more confident in backing this product. However, I think most magicians would be capable of making this work for them if they were seriously interested in adding this effect to their repertoire.
The list of international dealers can be found at www.masudas-atto.com