Reading? Overrated! Download the review for later or listen to it below! If you have a product you want to talk about, tell us about it. Here's how.


Trio - Reviewed By Derek Merdinyan [1:23m]:
Play Now
|
Play in Popup
|
Download
—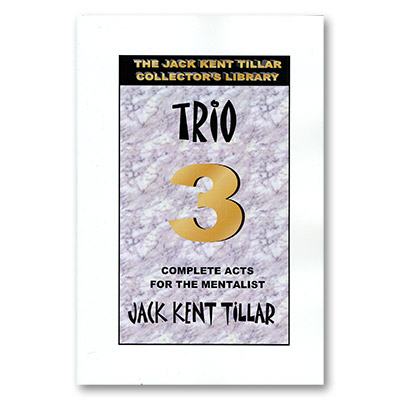 Bang, right there in that book are three complete, powerful, 30 minute, 1-man mentalism shows that require some very basic setups (if any at all).
Each of these acts was designed for one of three 'specific' performance settings. Of course, you could easily take any of these well thought out effects and add them singly to your own repertoire, or add some of your own favorite effects into these routines.
One of the things I really liked, particularly about the 'impromptu' show and the intimate close up show was just how light they are – you can carry these acts with you in your pockets and be ready to go for a 30 minute set. This is great whether you intend on performing this material or come into some sort of bind and need some good reliable material to get you through your performance.
If you are a magic dealer and are interested in carrying this product, you can contact Murphy's Magic Supplies at 916 853 9292 or visit them on the web at www.murphysmagicsupplies.com.