Reading? Overrated! Download the review for later or listen to it below! If you have a product you want to talk about, tell us about it. Here's how.


iVanish - Reviewed by Derek Merdinyan:
Play Now
|
Play in Popup
|
Download
—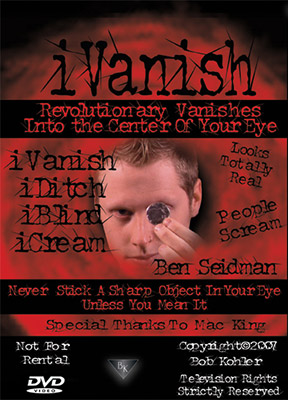 There's always going to be a new way to vanish a coin – and of all the new fancy modern creations, iVanish is by far the most original, but is not without a few minor drawbacks.
The general principle is quite easy to follow and pickup, but performing the vanish so the coin appears to be absorbed into the eye (and nothing else is happening) is where you're practice will be focused.
Of all the vanishes, variations and routines taught on the DVD, the standard iVanish vanish is nearly angle proof and is quite easy to manage any possible weak viewing areas.
Unlike most modern vanishes however, there are a few *minor* drawbacks to this vanish:
- The coin that vanishes can be borrowed, but you're probably going to want to use your own. There's no preparation or anything done to the coin, but trust me when I say this, most folks are probably going to be performing this with one of their own coins.
- If I were going to vanish a signed coin and have it appear somewhere else, this probably wouldn't be the vanish I would use, although, like above, if you really wanted to, you could.
If you are a magic dealer and are interested in carrying this product, you can contact Murphy's Magic Supplies at 916 853 9292 or visit them on the web at www.murphysmagicsupplies.com.