Reading? Overrated! Download the review for later or listen to it below! If you have a product you want to talk about, tell us about it. Here's how.


Invisible Touch - Reviewed by Derek Merdinyan [1:50m]:
Play Now
|
Play in Popup
|
Download
—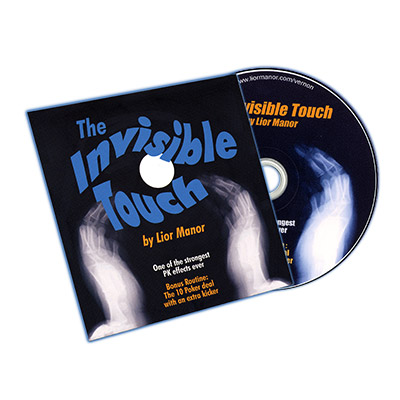 The routines on this DVD have the potential to play for crowd of three to an audience of hundreds. Each 'touch sequence' is well rehearsed and clearly explained.
What makes these routines great is that the 'touches' are excellently incorporated with a metal bending routine of some sort, giving more purpose to the ghostly touches.
There was one segment of the DVD where the sound was simply non existent, but came back after a few minutes. During those few minutes, it was still possible to somewhat follow along with the actions that were going on. Luckily, the section that was affected will not compromise your ability to learn these routines.
Also included on this DVD is Lior's 10 card poker deal which he has made into a successful segment of his trade show repertoire.
If you are a magic dealer and are interested in carrying this product, you can contact Murphy's Magic Supplies at 916 853 9292 or visit them on the web at www.murphysmagicsupplies.com.