Reading? Overrated! Download the review for later or listen to it below! If you have a product you want to talk about, tell us about it. Here's how.


Final Fusion - Reviewed by Derek Merdinyan [2:05m]:
Play Now
|
Play in Popup
|
Download
—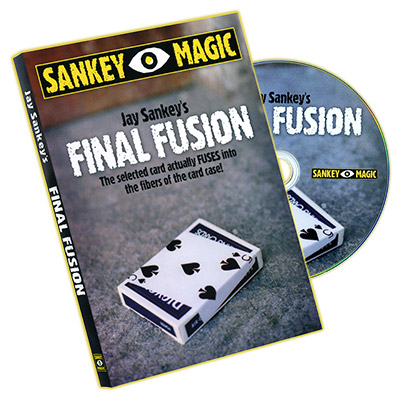 The Ups:
- Creative way to end a (non-signed) card routine.
- Comes with a red and a blue case (minor assembly required). Different cards are printed on each case.
- Many variations, most people should find something in their abilities that they can use.
The Downs:
- You can't give the box away (unless Jay starts selling refills)
- Part of the printed card is visible on the switched in case, however, it shouldn't be noticed. Think of spectators not noticing a card under a glass in a card under glass routine.
Bottom Line:
This product comes with thorough instructions and two construct-it-yourself cases at a fair price. This is a nice candidate for that routine-ending effect.
If you are a magic dealer and are interested in carrying this product, you can contact Murphy's Magic Supplies at 916 853 9292 or visit them on the web at www.murphysmagicsupplies.com.