Reading? Overrated! Download the review for later or listen to it below! If you have a product you want to talk about, tell us about it. Here's how.


Spookey - Reviewed by Derek Merdinyan [1:42m]:
Play Now
|
Play in Popup
|
Download
—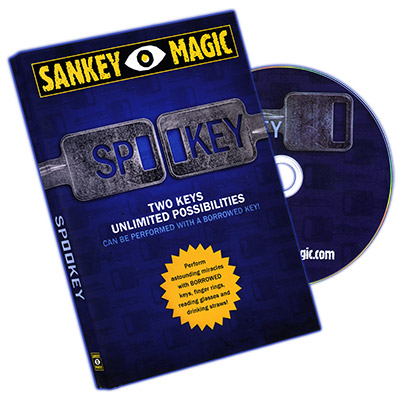 Lots of possibilities to expand out and make up your own routines. It's like opening a new gimmicked coin set and seeing what you can do with it. Sankey provides you not only with some basic routines, but also gives you the tools to modify, expand, and even create your own routines from scratch.
The list of moves, links, unlinks, and switches is quite thorough and some of them are pretty darn clever (i.e. the spin convincer).
The included props are actually of pretty good quality and even the gimmicked 'key' key is still pretty tough and shouldn't bend or break if you're carrying this around in your pocket or out performing it.
As far as difficulty levels go, it's up to you how technical you want to get, but a moderate level of general slight proficiency will be needed for most moves (i.e. the shuttle pass).
I would encourage coin workers to consider taking a look at this product and see what sorts of routines they can come up with their already polished coin slights and see how they translate over to keys.
If you are a magic dealer and are interested in carrying this product, you can contact Murphy's Magic Supplies at 916 853 9292 or visit them on the web at www.murphysmagicsupplies.com