Reading? Overrated! Download the review for later or listen to it below! If you have a product you want to talk about, tell us about it. Here's how.


Slight of Hand with Coins - Reviewed by Derek Merdinyan [1:28m]:
Play Now
|
Play in Popup
|
Download
—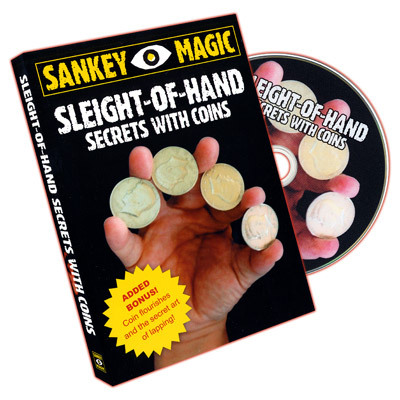 I think Jay Sankey's Slight of Hand with Coins DVD would be a great successor for magicians who picked up Penguin Magic's "In the Beginning, There Were Coins." I really felt like In the Beginning is a solid starting point where slights are really covered in depth and Sankey's new DVD compliments it nicely by using many of these slights and teaching some more robust effects and routines. Slights are covered on this DVD, but again, I felt ITBTWC did a better job of teaching them in depth with all the right close up shots.
This DVD is of the typical Sankey quality, great video, good sound, and a questionably insane instructor.
Bonus sections included cover coin flourishes, which may find favor with poker players interested in chip shuffles, and a segment dedicated to the 'Secret Art of Lapping' – one of my personal favorite moves in magic.
If you are a magic dealer and are interested in carrying this product, you can contact Murphy's Magic Supplies at 916 853 9292 or visit them on the web at www.murphysmagicsupplies.com.