Reading? Overrated! Download the review for later or listen to it below! If you have a product you want to talk about, tell us about it. Here's how.


iVanish - Reviewed by Bizzaro [1:03m]:
Play Now
|
Play in Popup
|
Download
—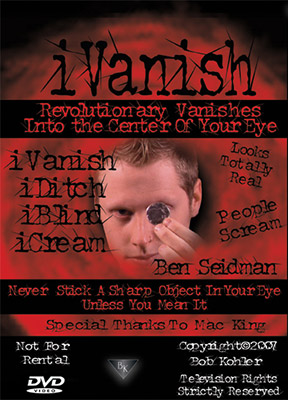 There has been a strange trend in coin magic in the last many years that involve some very right angle thinking in accomplishing the vanish of flat round metal money. The ivanish is no exception.
On this video you get three methods for vanishing a coin. Ah but wait, there's more!! You place the coin into your eye (Like an opaque monocle) and then appear to rub/shove/press the coin into your eye. From there you can carry on or remove it from your eye in a few interesting ways.
One such uses the old "Fork in the eye" gag, if you want to go to extremes. For your more subtle effect you can appear to put it in one eye and press it across your face to the other one, and then remove it. Personally I would never perform this, (And I can't tell you why because it would expose the method), but it is good to see and know in case the need ever arose to vanish a coin into the orbit of your skull.
In today's world of magic geared for the street and kids with more skill than personality, this might be right for you. I'd say just wait for the download to show up on the torrent sites, but that would be un-ethical. Instead convince your friend to buy it and then borrow it from them, as we don't exactly have dollar theaters for magic videos now do we?