Reading? Overrated! Download the review for later or listen to it below! If you have a product you want to talk about, tell us about it. Here's how.


Psycolor Change Deck - Reviewed by Derek Merdinyan [1:36m]:
Play Now
|
Play in Popup
|
Download
—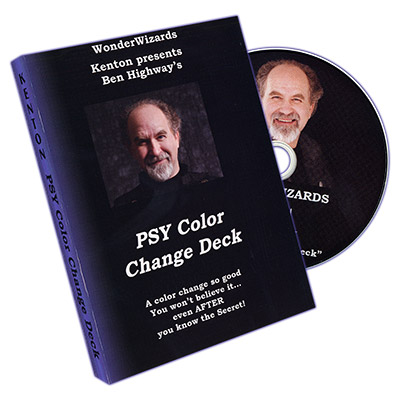 This one's a bit ballsy. A good portion of the DVD is spent assuring the viewer that the effect can be performed and that the psychology works. Two magicians gave testimony that they did not know what was going on and that they were in fact, fooled. Watching from home, I caught it the first time, however it may have been because I knew exactly what kind of effect was about to be performed.
Still though, it is interesting, the thinking behind this one. It's quite simple to do. The deck is completely ordinary and the setup is very elementary. The most challenging part of performing this is getting the confidence to do so, trusting the method. I'd highly recommend trying this one out at your local magic ring to help gain the confidence you'll need to perform the effect. Confidence is the true secret of this effect. You must be totally committed to it; the method relies largely upon the natural way you perform this effect.
If you are a magic dealer and are interested in carrying this product, you can contact Murphy's Magic Supplies at 916 853 9292 or visit them on the web at www.murphysmagicsupplies.com.