Reading? Overrated! Download the review for later or listen to it below! If you have a product you want to talk about, tell us about it. Here's how.


Fingers of Fury Vol. 1&2 - Reviewed by Derek Merdinyan [1:57m]:
Play Now
|
Play in Popup
|
Download
—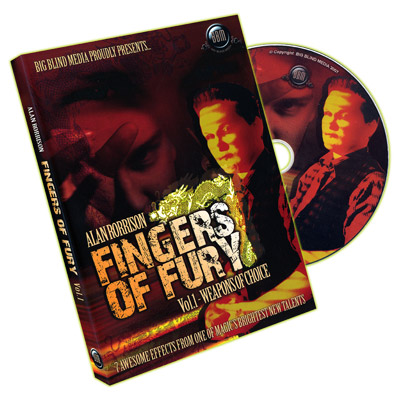 Fingers of Fury, the two disk set has some pretty interesting and original magical effects on it – including card magic (oh my!).
Volume One contains all the 'other' magic effects, like Deep Impression where a selected card slices through your arm like on of those knife-through-arm effects; however, it's not really an entire routine, I'd classify it as a quick throw-away effect. Hells Bend is a coin bend which uses a fairly simple invisible switch that can be a real fooler when you show the only thing in your hand at the end to be the bent coin; what's the downside, you ask? The switch requires a table. Of all the effects on this DVD, the favorite by far, however is the borrowed coin through cellphone screen (Relentless). It's fairly easy, pretty darn visual, and can be done with most modern camera phones. Course, there's more on this DVD…
Volume Two is where cardicians can get their fix – and no, I wasn't feeling the pain when watching this one. In continuation with the clever thinking on Vol. 1, we get some equally interesting card effects. My favorites include: PolterDeck – an impromptu haunted deck; Whiteside & Penman – an effect where two halves of two different cards fused back into a single mismatched card (this one requires a special card that is not included. Also of note, this effect won't be too useful in walk around situations unless the performer has two of the right one-way decks that match the special card); and Linker – a linking card effect with multiple variations – steady hands are required to perform this visual linking sequence.
Between the two, I'd imagine you could find enough likable material to justify the price of buying these two volumes together.
If you are a magic dealer and are interested in carrying this product, you can contact Murphy's Magic Supplies at 916 853 9292 or visit them on the web at www.murphysmagicsupplies.com.