Reading? Overrated! Download the review for later or listen to it below! If you have a product you want to talk about, tell us about it. Here's how.


The System (Special Edition) - Reviewed By Derek Merdinyan [1:23m]:
Play Now
|
Play in Popup
|
Download
—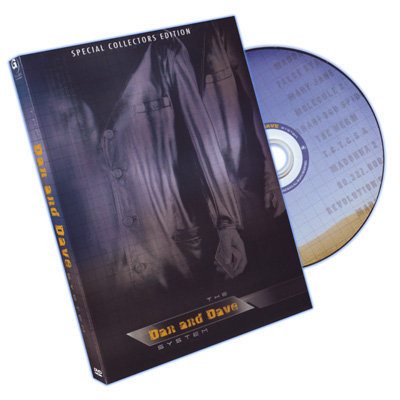 Are you ready to learn The System? [Fake] video testimonials on the DVD show how a selection of self proclaimed low-lives were transformed by learning The Dan and Dave System – including R. Paul Wilson…
Aside from the addition of these videos, and (I think) a revised section teaching the Molecule Cut, (Easter Eggs?), the only difference between The (original) System DVD and the Special Edition release is a partially updated DVD interface.
Now for those of you never exposed to the original System DVD, you're in for some real taxing finger treats. This stuff is not easy to learn; luckily, you are provided with two different instructional camera angles and variable speeds for watching the interweaving of various packets between fingers.
As much as I like the instructional style of The System DVD, despite how 'different' and helpful it is, I actually prefer the teaching done on the Buck Twins' new DVD series, The Trilogy.
If you are a magic dealer and are interested in carrying this product, you can contact Murphy's Magic Supplies at 916 853 9292 or visit them on the web at www.murphysmagicsupplies.com.