Reading? Overrated! Download the review for later or listen to it below! If you have a product you want to talk about, tell us about it. Here's how.


The Cloak - Reviewed by Derek Merdinyan [1:58m]:
Play Now
|
Play in Popup
|
Download
—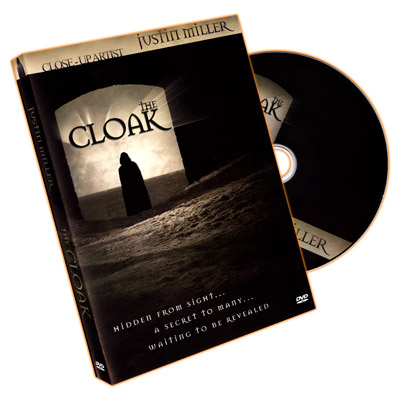 The Cloak is truly the latest evolution of thread hookups. I believe it greatly surpasses the also popular, Loops, in that you have way more freedom with your hands and can actually put some great distances between you and the magic.
The DVD teaches two different hookups which are specifically designed to be performed with elastic IT; one for sitting down and one for standing up. What's nice is the DVD comes with some of Yigal Mesika's elastic IT and wax to start practicing right out of the case.* The biggest challenge is stripping the thread.
Justin is an easy to follow teacher and takes you in depth throughout the effects, teaching them thoroughly with each of the hookups.
All the effects on the DVD taught with the two hookups are essentially rising card and creeping card effects. They are all quite strong in that the deck can be placed quite some distance from the performer and things are handled so naturally compared to other thread hookups. Some of the routines were specifically designed to be performed in a spectator's own hands! It is recommended that you use some of the popular Black Tiger or even the new Theory11 Guardians to help hide the thread – especially if you plan on performing these miracles in a spectator's hands.
That said I would also like to have seen effects that transcended moving card effects, expanding out to manipulate and animate other objects.
One other thing I thought the DVD was missing was a look (even just a quick one) on removing the 'sit-down' hook up and being able to transport it to another table. I think the 'sit-down' setup has some potential even whilest standing and tablehopping; just set it and forget it!
If you are interested in picking up this DVD for yourself, check out www.thecloakdvd.com. *Thread and wax come with the DVD only if you order from the link above.
If you are a magic dealer and are interested in carrying this product, you can contact Murphy's Magic Supplies at 916 853 9292 or visit them on the web at www.murphysmagicsupplies.com.