Reading? Overrated! Download the review for later or listen to it below! If you have a product you want to talk about, tell us about it. Here's how.


Repeal - Reviewed by Derek Merdinyan [1:34m]:
Play Now
|
Play in Popup
|
Download
—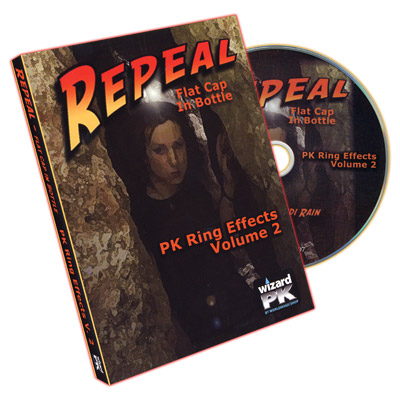 Repeal has some some pretty strong pros and cons that will affect your purchasing decision:
Pros:
The bottle can be given away.
Pretty clever method for getting the duplicate cap into the bottle.
This is a flat cap in bottle, meaning that the cap that is inside the bottle is flat and NOT bent like most other beer bottle style cap in bottle products.
Cons:
You must approach your audience prepared (read: expecting) to perform this; everything is set up in your hands and you're just holding it, waiting for someone to ask you to perform (if at a party). If performing this in a stand up situation, it would be possible to pick up the prepared bottle from inside a brief case and get everything into position in seconds.
It is possible to perform with the bottle you're drinking from, but you've first got to do the prep work and then you have to worry about hiding it inside the bottle till you're ready to perform.
The DVD says you can prepare this on the fly – if by 'on the fly' you mean a few minutes on your own in a bathroom stall with all the required tools. Otherwise, preparation can be done at home in just a few minutes.
If you are a magic dealer and are interested in carrying this product, you can contact Murphy's Magic Supplies at 916 853 9292 or visit them on the web at www.murphysmagicsupplies.com.