Reading? Overrated! Download the review for later or listen to it below! If you have a product you want to talk about, tell us about it. Here's how.


Influence U - Reviewed By Derek Merdinyan [1:36m]:
Play Now
|
Play in Popup
|
Download
—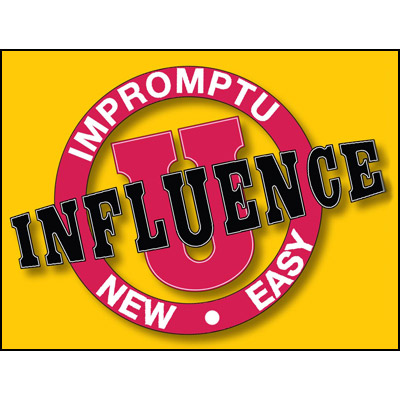 Influence U is a revamped 'Telephone The Wizard' effect for the modern era.
While specifically created for impromptu performances in restaurants and cafes, it has the potential for performance in a close up or stand up show, pending you have the standard table placements for a restaurant with you (spoon, fork, knife, plate, cup, napkins, etc.)
As it relates to the method, it is important that the performer (and sometimes the spectator) are able to speak proper and clear English. You're not going to have to worry about how badly you did in those English classes, just so long as you can pronounce certain elements of your presentation properly.
After reading the description, many people may think this effect uses the P.A.T.E.O. Force; but it doesn't! The end selection is truly a free choice.
This is definitely one of those special effects you could use to get gigs or close deals (pending you are in a restaurant, coffee shop, etc.)
Influence U is currently available in two versions, one for the U.S. and Canada and most recently, an 'International Version' has been produced. NOTE: the answering machine responds in English only. You receive everything you're going to need to perform this effect including a special 'aid' that you can carry around in your pocket to make performing this mental feat with greater ease.
If you are a magic dealer and are interested in carrying this product, you can contact Murphy's Magic Supplies at 916 853 9292 or visit them on the web at www.murphysmagicsupplies.com.