Reading? Overrated! Download the review for later or listen to it below! If you have a product you want to talk about, tell us about it. Here's how.


Bootlegs and B-Sides - Reviewed by Derek Merdinyan [1:19m]:
Play Now
|
Play in Popup
|
Download
—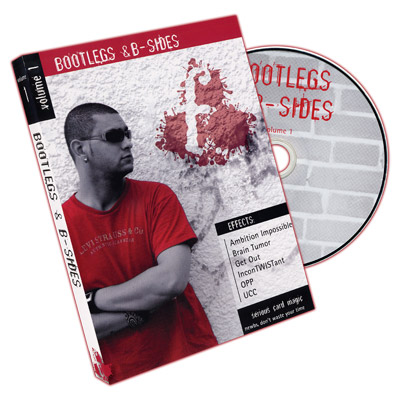 Right now we're going to take a look at the brand new DVD from Sean Fields, Bootlegs and B-Sides.
The DVD in question contains six new effects taught in the style of an XCM DVD – in other words, without, uh, words.
It should be noted that this DVD is not for beginners as noted on the cover, "Newbs, Don't waste your time." Hey, at least he's honest. Not all the effects presented here will destroy your hands, but most of the slights used in said effects are not explained; this is to maintain the fluidity of the teaching style without breaking to teach moves like the double lift.
Digging into the effects, we get a simple twisting the aces routine with an easy to do, Asher Twist-inspired climax, and a simplified, impromptu Out of This World Routine with plenty of spectator involvement. But of all the items on DVD, it was the ambitious card climax that really got my attention. Ambition Impossible has definitely earned it's spot on this DVD, unfortunately, my hand is still feeling the burn.
If you are a magic dealer and are interested in carrying this product, you can contact Murphy's Magic Supplies at 916 853 9292 or visit them on the web at www.murphysmagicsupplies.com.