Reading? Overrated! Download the review for later or listen to it below! If you have a product you want to talk about, tell us about it. Here's how.


Bill Shift - Reviewed by Derek Merdinyan [1:26m]:
Play Now
|
Play in Popup
|
Download
—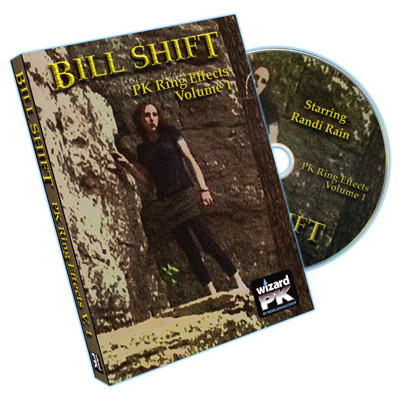 Bill Shift is a creative use of the PK Ring, can you say bill switch? It's nice to see a branch out from penetration and PK effects with this popular magicians utility (you'll get more of this good creative stuff throughout this series).
That said, Bill Shift has some distinct disadvantages that are common amongst standard TT Bill Switches. For example, Bill Shift is not best suited for borrowed bills (although it could be done). Furthermore, the switch does not accommodate magicians wanting to switch the bill back.
You can, however, change your own bill and pass it out for examination in the end and that is good enough for some people. Plus, I've never been a big fan of the 'I need to switch it back because this is illegal' line.
I'd also like to give props to Randi Rain for the entertaining video opener and creative way of incorporating the Bill Shift performance on this themed DVD.
If you are a magic dealer and are interested in carrying this product, you can contact Murphy's Magic Supplies at 916 853 9292 or visit them on the web at www.murphysmagicsupplies.com.