Reading? Overrated! Download the review for later or listen to it below! If you have a product you want to talk about, tell us about it. Here's how.


Cloud Busting Secrets - Reviewed by Derek Merdinyan:
Play Now
|
Play in Popup
|
Download
—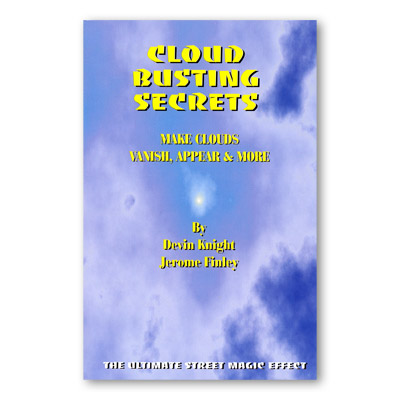 Cloud Busting is the ability to apparently blast clouds from their puffy nature into whisps of nothingness. Doing such things without the aid of futuristic weather-manipulating technologies are actually seemingly possible to do.
Without recalling the jaded lines of ad copy for magic products, IMAGINE, being able to control the skies, IMAGINE, being able to produce, vanish, and manipulate clouds seemingly only with the power of your mind, IMAGINE, doing this on a beach, with no lasers, or stooges, or mirrors, and other stuff, while naked!
Cloud Busting Secrets contains all the detailed information on this *science* along with many different presentation ideas, the use of manipulated clouds as thought revelations, making your performances look real, and how to find practical situations to perform Cloud Busting in the real world and use it as a way to promote your business.
When considering adding Cloud Busting to your repertoire, there are a few things you must consider:
- How good of an actor are you, acting is one of the strongest convincers that will keep your audience engagued during the effect
- Vanishing a cloud typically takes 2-5 minutes; fortunately, we gain insight on the many years of experience from Devin and Jerome on what to do and how to keep the audience in on the effect.
- Cloud Busting isn't something you can always do on a moment's notice. The weather conditions must be in your favor.
The many years of development on the epoch of 'weather magic' by Devin Knight and Jerome Finley are finally here and ready for the world to expand upon the long list of possibilities with these basic principles.
As far as price point goes, $40 for all this amazing knowledge (including other forms of weather magic), and clear, straightforward writing style of Devin Knight (not to mention all the gigs this will get you), this book is a steal.
If you are a magic dealer and are interested in carrying this product, you can contact Murphy's Magic Supplies at 916 853 9292 or visit them on the web at www.murphysmagicsupplies.com.