Reading? Overrated! Download the review for later or listen to it below! If you have a product you want to talk about, tell us about it. Here's how.


Scrolls - Reviewed by Derek Merdinyan [1:48m]:
Play Now
|
Play in Popup
|
Download
—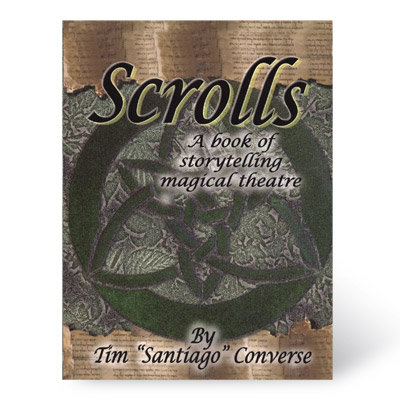 The more I am exposed to Bizarre Magic, the more I think ALL magicians should study it. One of the greatest misconceptions of this epoch in magic is the stereotype that all Bizarre magic is deeply mystical, uses tarot cards, colored stones, based upon legends, etc.
Well yeah, it does, but not all the time. One of the greatest lessons I've received from my brief study of Bizarre magic is that Bizarrists tend to get it, the whole 'Magic is an Art form-thing'. Their magic is woven into powerful stories rather than knuckle busting/super impossible, magician fooling magic with crappy patter.
Scrolls will aid both bizzarists and magicians alike who wish to effectively tie their magic together with their character and create true magic. The ideas presented here can carry over not only to effects of a mystical nature, but also to card magic, coin magic, cups and balls, etc. Sure, magicians have been getting by for years using the mediocre patter included with the latest hot magic trick but taking some extra time to reframe and refocus the purpose of a magic routine will be more than worth the brain power.
The book is focused less on methodology and more on the powerful stories, something I'm finding to be common amongst Bizarre Magic books. To illustrate the power of a great plot, there is a version of the 6 Card Repeat taught in this book that is almost worth performing (hahaha!)
If you are a magic dealer and are interested in carrying this product, you can contact Murphy's Magic Supplies at 916 853 9292 or visit them on the web at www.murphysmagicsupplies.com.