Reading? Overrated! Download the review for later or listen to it below! If you have a product you want to talk about, tell us about it. Here's how.


Refraction Reviewed by Derek Merdinyan:
Play Now
|
Play in Popup
|
Download
—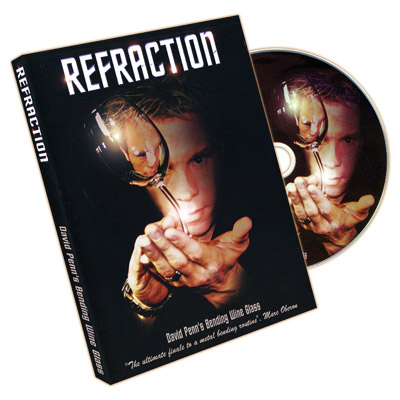 Naturally, Refraction is not that effect with the holy grail-type gimmick magicians all seek. But of course, you knew that, right?
Refraction is a worker's solution to performing a very special effect – so keep that in mind if you plan on picking up this DVD and bending wine glasses at your next fine dining meeting or wine tasting event. This is really suited for performing in actual gigs and not those rare occasions when you are looking for a winning effect to get that big time gig.
Now before you decide to plunk down $50 to learn this single effect, bare in mind that you're going to have to steal a glass from your performing venue to prepare in advance. Also keep in mind that the venue will not like finding bent wine glasses everywhere (unless you mention it beforehand).
For those of you who don't work the table hopping arenas, never fear, there is a solution for you, one that will probably be used more often than the brave worker's solution.
Both versions however use the same bending method and psychological premises to apparently bend the wine glass in the audience member's hand.
David knows the ins and outs of this pet effect and teaches all the important minute details – especially when it comes to milking the effect without killing the moment.
Bottom line, remember that how the spectator perceives the effect is more important than the method.
If you are a magic dealer and are interested in carrying this product, you can contact Murphy's Magic Supplies at 916 853 9292 or visit them on the web at www.murphysmagicsupplies.com.