Reading? Overrated! Download the review for later or listen to it below! If you have a product you want to talk about, tell us about it. Here's how.


Pure Filth - Reviewed by Derek Merdinyan:
Play Now
|
Play in Popup
|
Download
—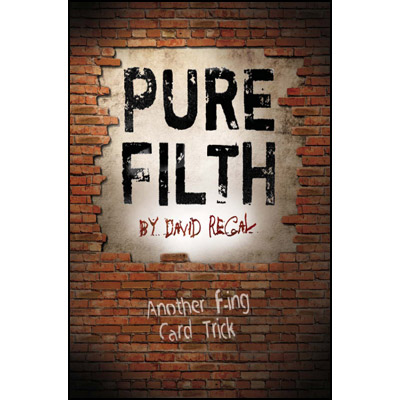 Talk about genuinely getting a lot of magic from only 4 cards. Pure Filth ups the ante on the classic Gemeni Twins routine with the addition of gimmicked cards.
In the end, only one card is examinable, luckily it's the one card your audience is most likely going to try and grab.
As I read through the instructions (which are printed in full color) I had to pause multiple times and reread several lines to figure out where I was and what I was supposed to be doing – something common amongst the majority of packet trick instructions. Furthermore, it wasn't until I watched the performance video of this routine performed by David Regal that I started to get a sense of how the routine should feel (It should be noted that liked the routine substantially more after viewing said video).
Suitable patter is included however the filthy/ naughty patter that is alluded to is left for your own imagination.
For those of you looking to perform this in a walk around situation, note that the packet resets by simply reversing the order of the four cards.
And as a final note: the blue printing for the back design is noticeably lighter than what is typical of a blue bicycle card – although I think it is safe to say only magicians would notice this.
If you are a magic dealer and are interested in carrying this product, you can contact Murphy's Magic Supplies at 916 853 9292 or visit them on the web at www.murphysmagicsupplies.com.