Reading? Overrated! Download the review for later or listen to it below! If you have a product you want to talk about, tell us about it. Here's how.


My Ideas - Reviewed by Derek Merdinyan [1:45m]:
Play Now
|
Play in Popup
|
Download
—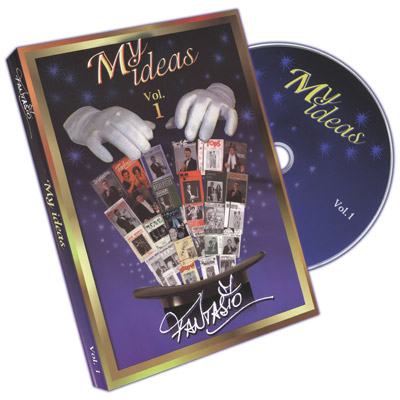 My Ideas features two different kinds of 'cute' ideas by the famous inventor of the appearing and vanishing canes and candles, Fantasio.
Volume one teaches a handful of Fantasio's ideas using his canes and candles, some of which he's successfully marketed for many years. Other ideas, like his bic-lighter to fan and Super Zipper Banana are openly explained for you to make at home (although you're going to have to figure out exactly how to string the cards together to make the bic-fan). BTW – the Rider deck taught on this disk is really cool and probably my favorite item in this whole set.
Volume two takes through a short little show using items found in a medicine cabinet. There is some interesting creativity here and it's interesting to see how these every day objects are used when combined with magic. However! A few of the items feel a little under developed – think of performing a chop cup 'routine' with only one phase: let me get out these props, go ahead examine the cup, the ball vanishes, and reappears, ok next trick! Of course, there's no reason why your creativity can't supplement this.
Overall, you're getting quite a bit of magic for just $15 per volume, and seeing as most of the items on volume one are now available for you to make at home, you're getting a pretty good value here.
If you are a magic dealer and are interested in carrying this product, you can contact Murphy's Magic Supplies at 916 853 9292 or visit them on the web at www.murphysmagicsupplies.com.