Reading? Overrated! Download the review for later or listen to it below! If you have a product you want to talk about, tell us about it. Here's how.


Muscle Pass DVD - Reviewed by Derek Merdinyan [1:29m]:
Play Now
|
Play in Popup
|
Download
—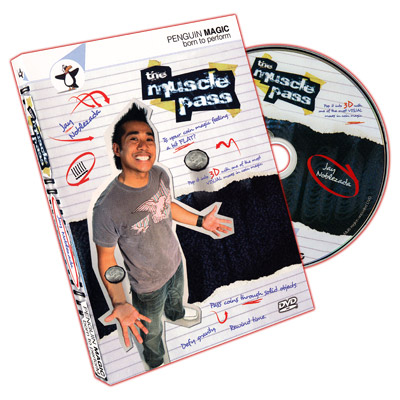 Mastering the muscle pass is almost a rite of passage for close up magicians; and while requiring a great deal of practice and dedication, the move is more than worth the effort.
This Muscle Pass DVD is the best resource for learning this move (that I am aware of…) You learn all the goods to mastering this difficult move in addition to some simple subtilties to quickly make your muscle pass seem 'higher' than it really is.
Of course, after all that practice, what can you do with this move? There are some pretty simple routines that are taught on this DVD which throw in the Muscle Pass as a single magical moment, but I think the coolest application of the move is a coin through *almost* anything (think wall, body, chair, etc); totally impromptu, borrowed coin (so long as you can perform the muscle pass with it).
One of my favorite features of the DVD was watching Jay Noblezada learn how to perform the Muscle Pass in his left hand. I think that people who've never attempted to learn this taxing move will find encouragement in watching this bonus feature – it's always good to see that magic doesn't just come naturally.
If you are a magic dealer and are interested in carrying this product, you can contact Murphy's Magic Supplies at 916 853 9292 or visit them on the web at www.murphysmagicsupplies.com.