Reading? Overrated! Download the review for later or listen to it below! If you have a product you want to talk about, tell us about it. Here's how.


Helter Shelter - Reviewed by Derek Merdinyan [1:32m]:
Play Now
|
Play in Popup
|
Download
—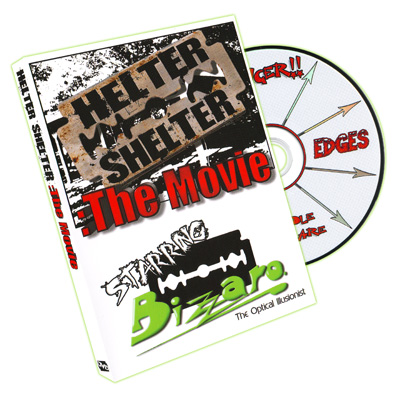 I wish I had this DVD a few years ago when I was 'shopping around' for a razor blades-on-string routine. Bizzaro, my hat goes off to you. Helter Shelter is a fantastic, comprehensive DVD on this classic in magic.
You really get it all on this DVD. Bizzaro breaks out his collection of props, tools, and gimmicks that can be used to perform this routine. Throughout its contents, you'll take in more than enough methods to perform this routine and most likely find one (or more!) that'll work for you.
Better still, Bizzaro takes you through the methodology of the various gimmicks and props so you can really decide what's going to work best for you in a variety of different performing arenas.
Course, it doesn't stop there. You'll also get lots of tips from Bizzaro's extended history of performing this including how to incorporate blood packets and a pretty sweet razor up nose (/vanishing razor) effect.
Finally, I'd like to thank Bizzaro for taking the effort to make this DVD entertaining to watch; a nice change of pace from those other DVDs.
If you are a magic dealer and are interested in carrying this product, you can contact Murphy's Magic Supplies at 916 853 9292 or visit them on the web at www.murphysmagicsupplies.com.