Reading? Overrated! Download the review for later or listen to it below! If you have a product you want to talk about, tell us about it. Here's how.


Ascension - Reviewed by Derek Merdinyan [1:44m]:
Play Now
|
Play in Popup
|
Download
—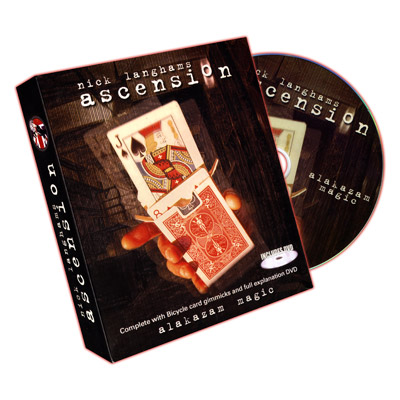 Here's my deal with Nick Langham's 'Ascension'. I am partial to the traditional card rise, regardless of method. A card is thought of/selected and proceeds to rise. Adding a second deck to this premise has it's advantages, but I personally prefer the rising card effect in it's simplest forms.
So lets take a look at what comes in the box. You receive the special Ascension card rise gimmick, a normal deck of cards (for the special gimmick, which, I might add, can go into either a red OR blue backed deck), an opposite colored, specially stacked deck, and an instructional DVD.
The actual Ascension card rise gimmick seems fairly well made, but time will be the ultimate test – and since there isn't much discussion on making new gimmicks, take care of it. Also worth noting, the card will only rise out of the case 50% of the time. The other 50% of the time the deck must be removed before the card can rise out. Note: having to remove the deck from the case for the card to rise has nothing to do with the gimmick getting stuck in any way; it sounds a little bit odd, but there you go.
In the end, I think it comes down to you wanting to perform this effect (or not) and accepting the fact that you'll need to carry two decks to perform a single effect when it's possible to perform many tricks with just one normal deck. Everything included is of good quality, well thought out and put together – the decision is up to you.
If you are a magic dealer and are interested in carrying this product, you can contact Murphy's Magic Supplies at 916 853 9292 or visit them on the web at www.murphysmagicsupplies.com.