Reading? Overrated! Download the review for later or listen to it below! If you have a product you want to talk about, tell us about it. Here's how.


Amazing Materializing Signature - Reviewed by Derek Merdinyan [1:28m]:
Play Now
|
Play in Popup
|
Download
—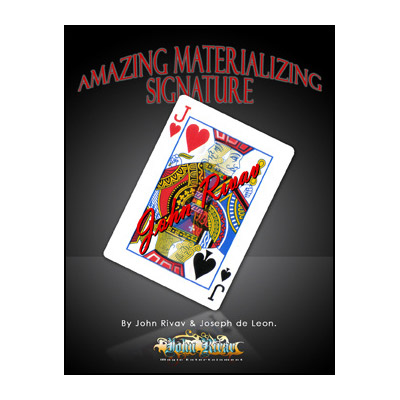 The Amazing Materializing Signature is a fair attempt at a something magicians have dreamt of performing for ages: taking a spectator's signature from the FACE of one card and causing it to appear, transpose, etc, on the FACE of another card.
Sounds great, right? Well, you can do just that, with a legitimate signature, no doops, and no special ink. So what's the catch? Because of the way the effect is performed, it isn't a 'big deal' but in the end, the signature transposes from one Jack to another Jack.
The effect requires a set up which may be inconvenient for walk-around magicians but could be used in this performing arena if a brief reset period is allowed.
Inside the package, you receive a set of printed instructions and multiple gimmicks for red and blue backed decks. Each gimmick should last several performances and when you run out, it is quite easy to make a bunch of new ones.
If you are a magic dealer and are interested in carrying this product, you can contact Murphy's Magic Supplies at 916 853 9292 or visit them on the web at www.murphysmagicsupplies.com.